Bienvenue dans les bonus ! 
Hello,
Bienvenue sur la page des bonus !
Retrouve ici des tutos gratuits sous différents formats (vidéos ou textes et images) exclusivement réservés à nos abonnés à la newsletter Polymère & Co. 
Cette page va évoluer au fil du temps avec de nouveaux tutos, prends donc le temps d'y revenir régulièrement ou n'oublie pas de lire nos newsletters qui annonceront la mise en ligne de nouveaux bonus.
Bonnes créations !
L'équipe Polymère & Co
Hello,
Welcome to the bonuses page!
Here you will find free tutorials in different formats (videos or text and images) exclusively reserved for our Polymere & Co newsletter subscribers.
This page will evolve over time with new tutorials, so please take the time to come back regularly or don't forget to read our newsletters which will announce the release of new bonuses.
Good creations!
The Polymère & Co team
Bonus du magazine N°37
Utilisation en hauteur de la résine UV DIP
Comme promis dans le test produit du magazine n°37 (moderne, avant-gardiste et futuriste), voici les deux autres idées de la rédaction concernant l'utilisation de la résine UV DIP.
1 – L'utilisation en hauteur
Vu la texture très mielleuse de cette résine et la rapidité de polymérisation possible grâce aux lampes UV, on s'est demandé si cette résine pouvait être catalysée en hauteur et permettre ainsi la construction de réalisations vers le haut.
Et bien oui ! C'est possible !
Comment ? Nous avons d'abord transvasé un peu de résine UV DIP dans un flacon avec un bouchon verseur (un ancien flacon de résine UV vide et propre).
Bonuses of the magazine No.37
Use of DIP UV resin at height
As promised in the magazine's product test No.37 (modern, avant-garde and futuristic), here are the editors' two other ideas for using DIP UV resin.
Given the very honey-like texture of this resin and the quick polymerisation possible thanks to the UV lamps, we wondered if this resin could be catalysed at height and thus allow the construction of upwardly facing works. Well, yes! It's possible!
How? First, we transferred some DIP UV resin into a bottle with a pouring cap (an old, empty, clean UV resin bottle).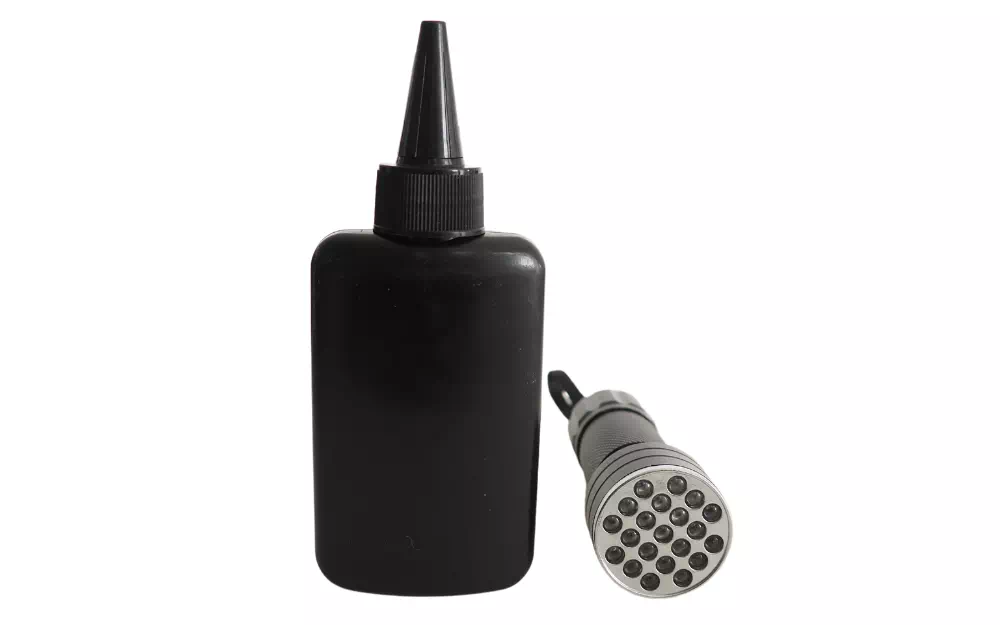 Puis, on applique un peu de résine sur un tapis de modelage en silicone (afin de pouvoir aisément décoller notre travail, mais tu peux appliquer la résine directement sur ta création). Cette première couche de résine nous servira de base pour la suite.
Then we apply a little resin to a silicone modelling mat (so that we can easily peel off our work, but you can apply the resin directly to your creation). This first layer of resin will serve as a base for the next steps.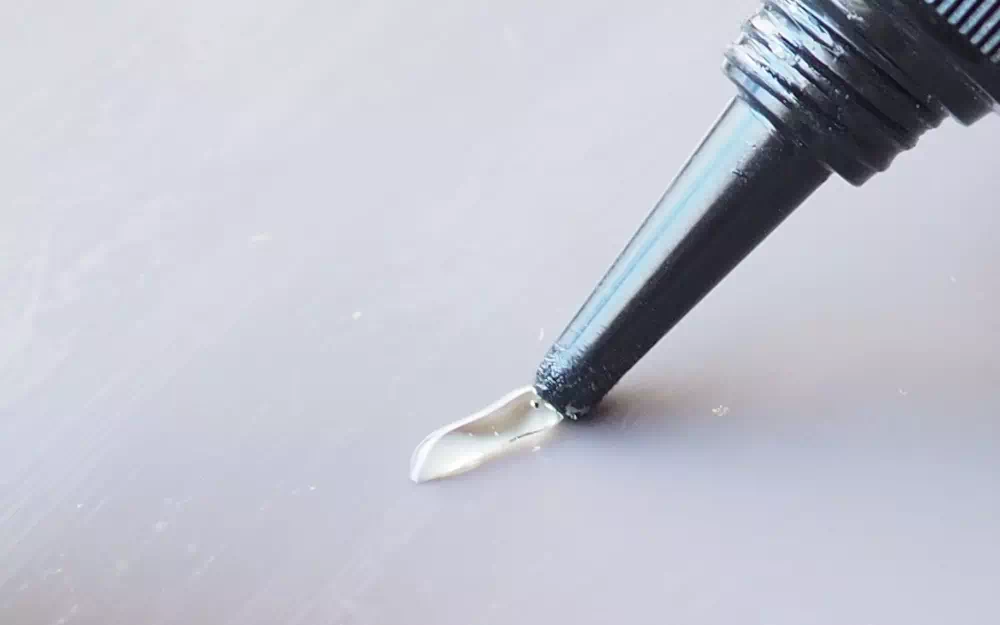 Catalyse environs 1 minute.
Catalysis approximately 1 minute.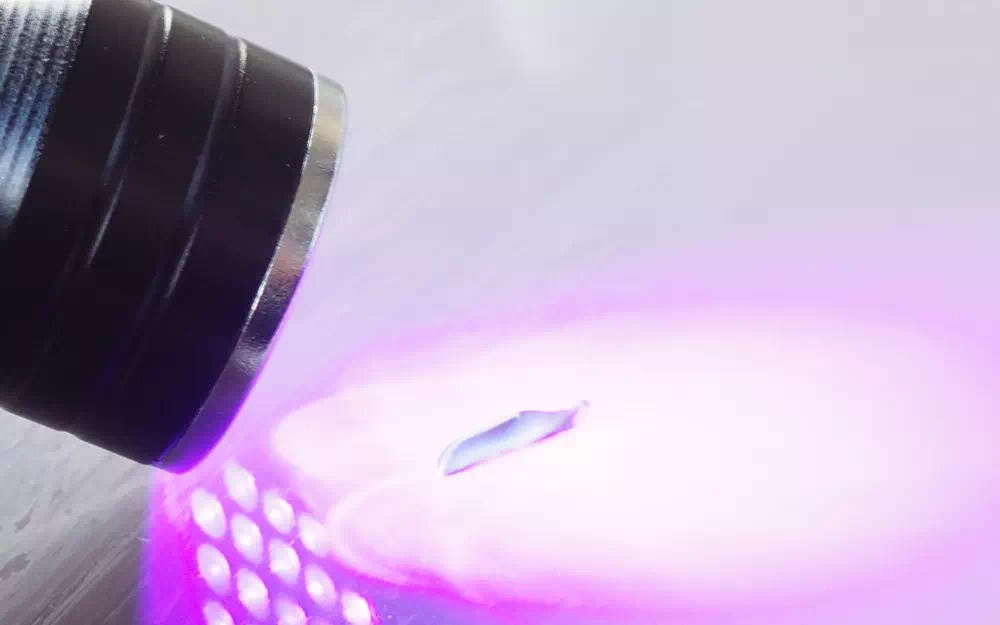 Puis, il suffit de catalyser la résine, au fur et à mesure qu'elle sort du flacon, à l'aide d'une lampe UV de poche. Astuce : incline la lampe UV de façon à catalyser le bas de la résine et pas directement ce qui sort du flacon au risque de boucher l'embout du flacon.
Cela demande un un peu d'entrainement mais quand on a compris le geste c'est tout à fait faisable.
Then simply catalyse the resin as it comes out of the bottle using a handheld UV lamp.
Tip: tilt the UV lamp so that you are catalysing the bottom of the resin and not directly what is coming out of the bottle, as this could clog the tip of the bottle.
This requires a little practice but once you understand the gesture it's perfectly feasible.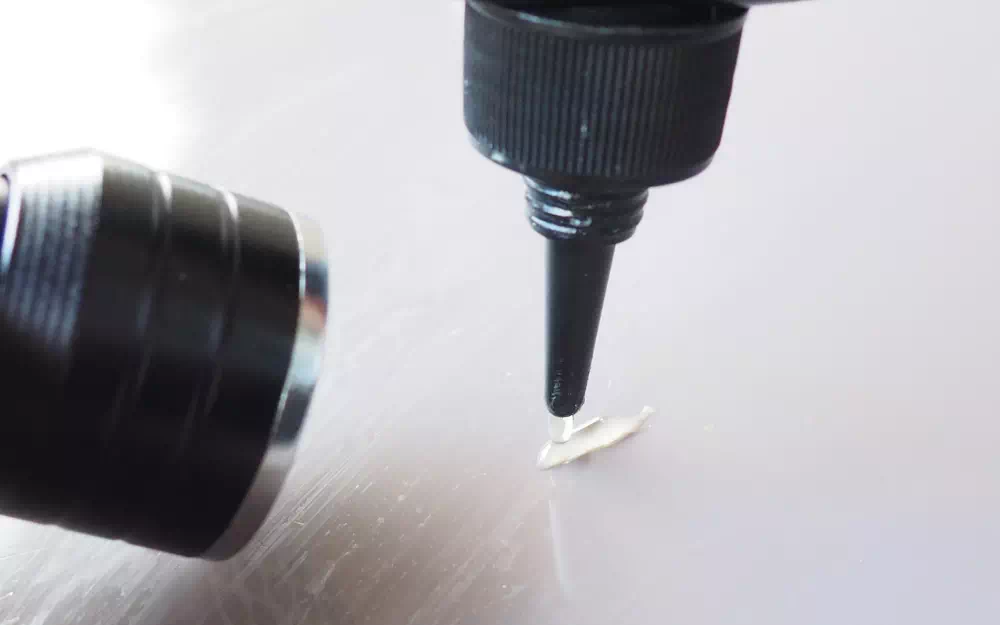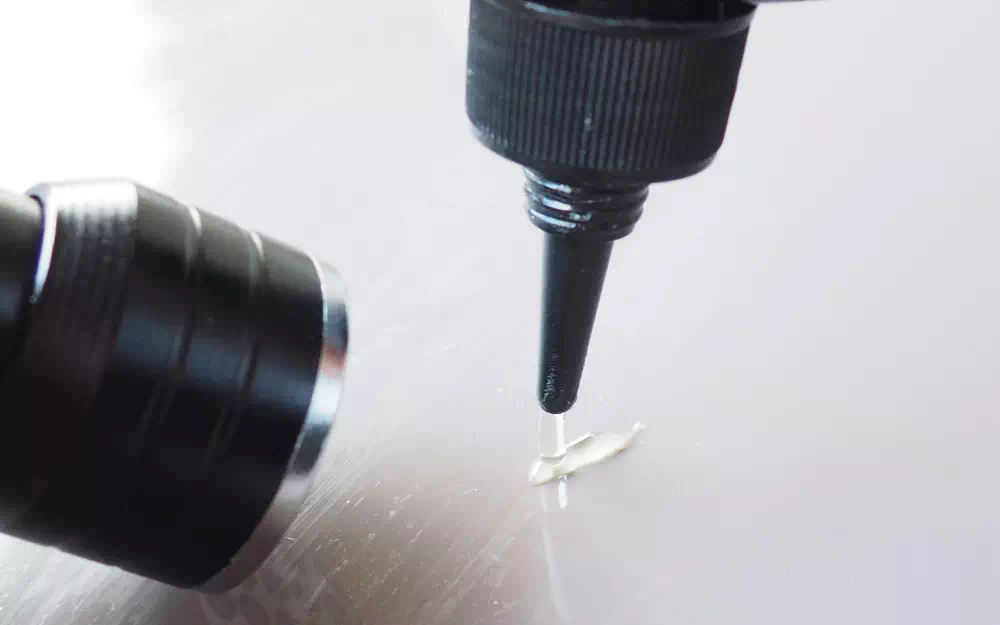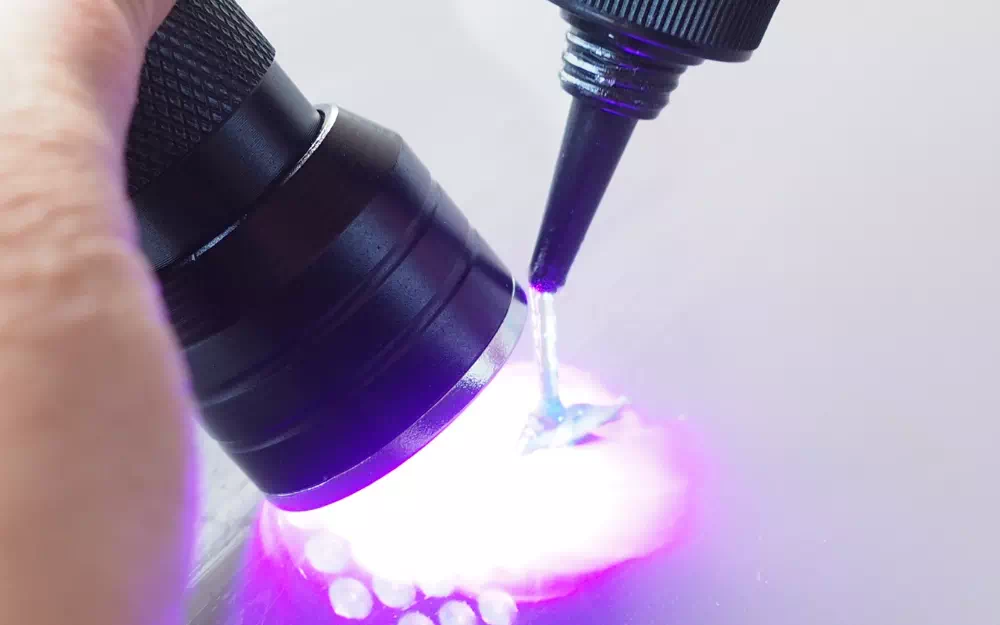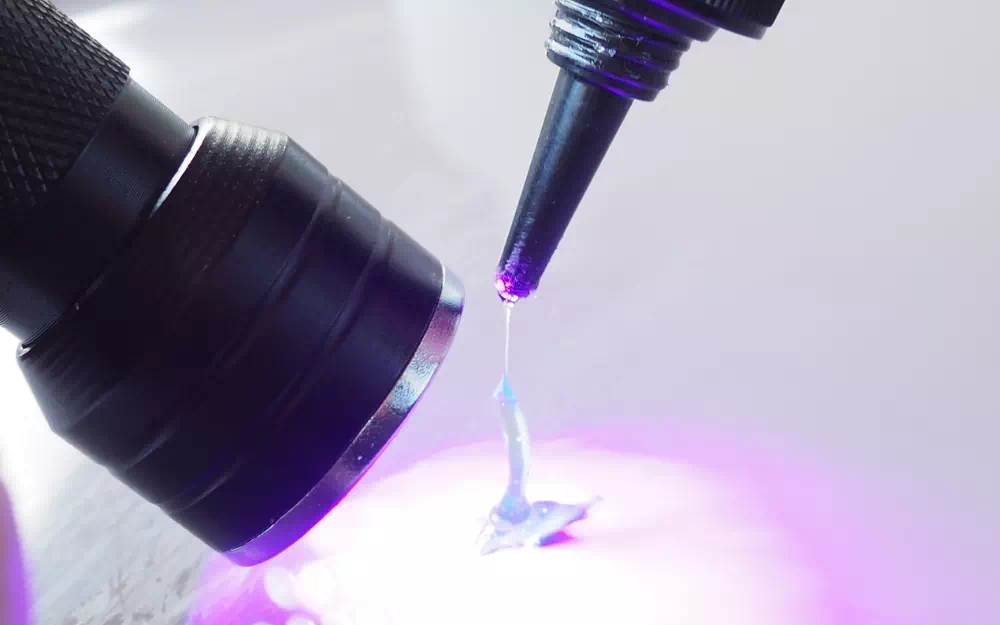 On retire le flacon lorsque l'on a atteint la hauteur désirée et on catalise le "stalactite" obtenu 1 minute.
The bottle is removed when the desired height is reached and the resulting "stalactite" is catalysed for 1 minute.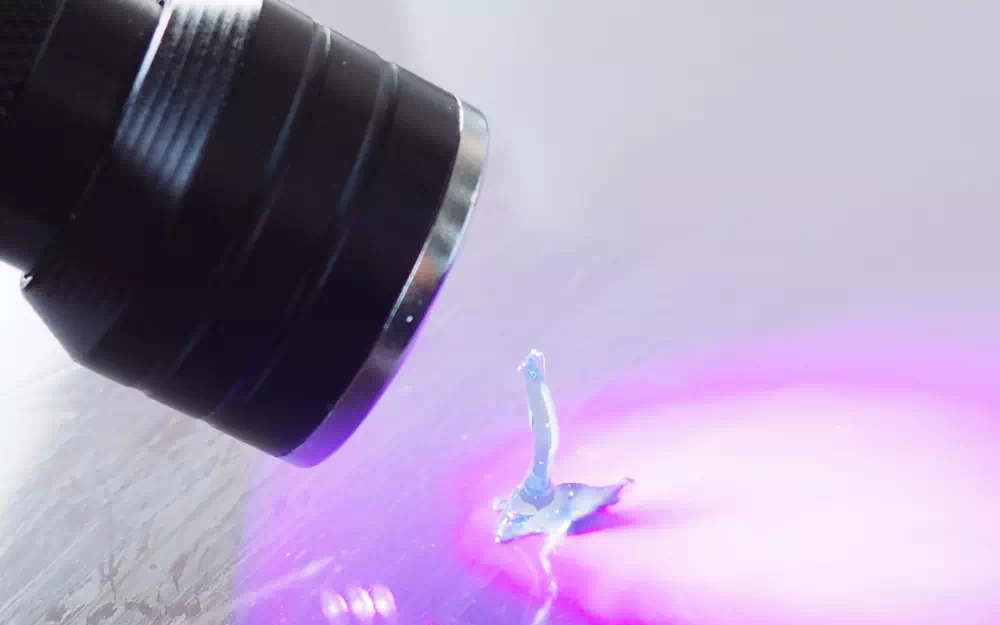 Il ne reste plus qu'à recommencer l'opération autant de fois que souhaitée.
All that remains is to repeat the operation as many times as desired.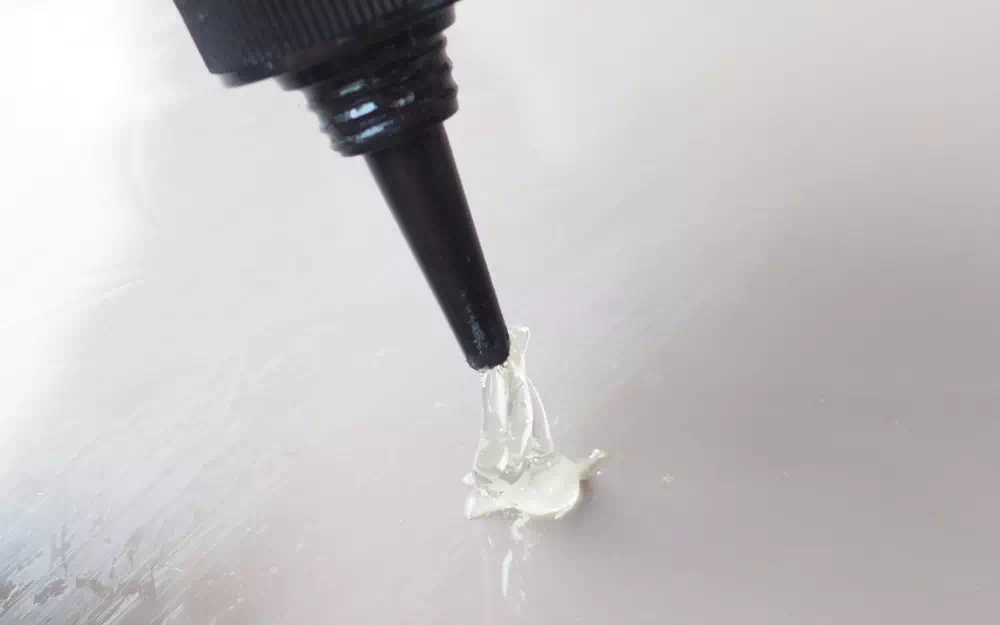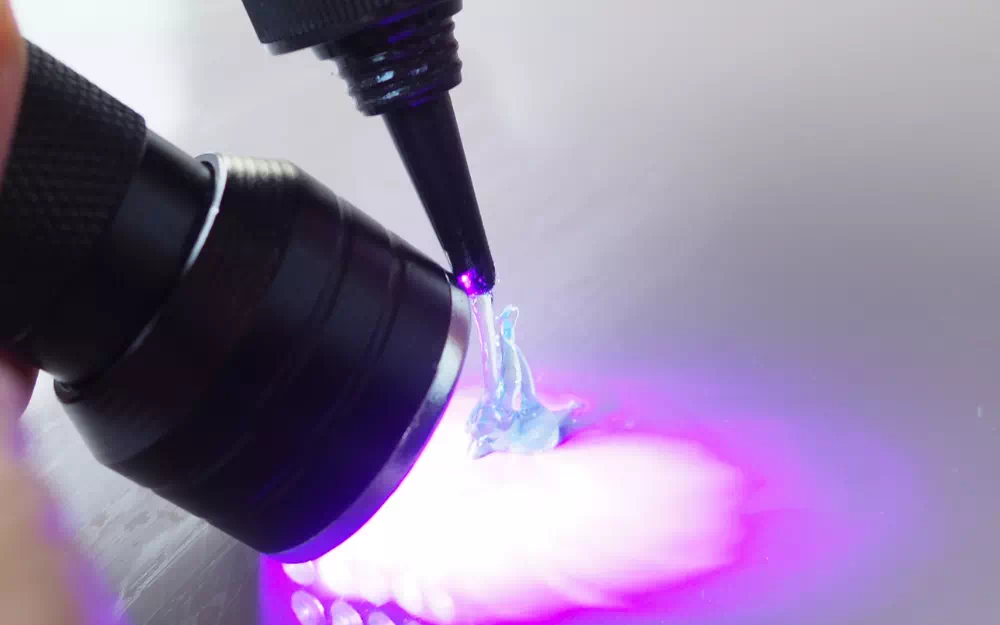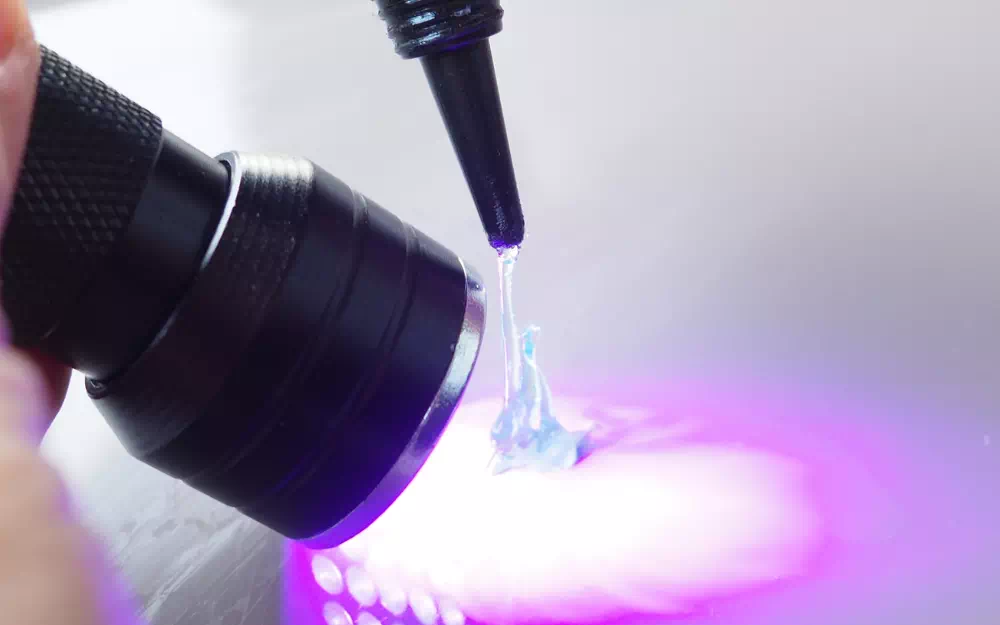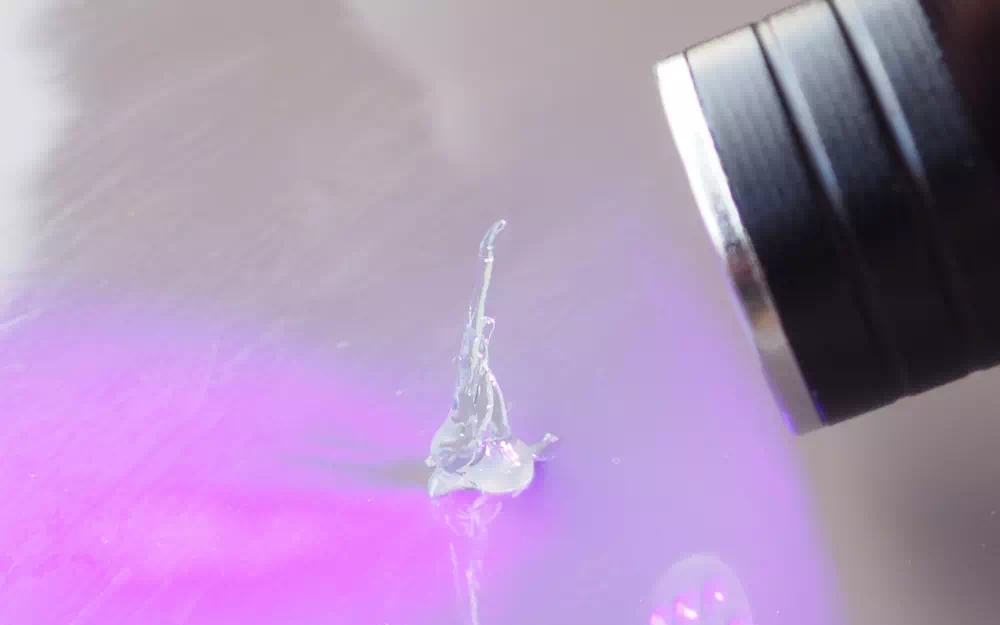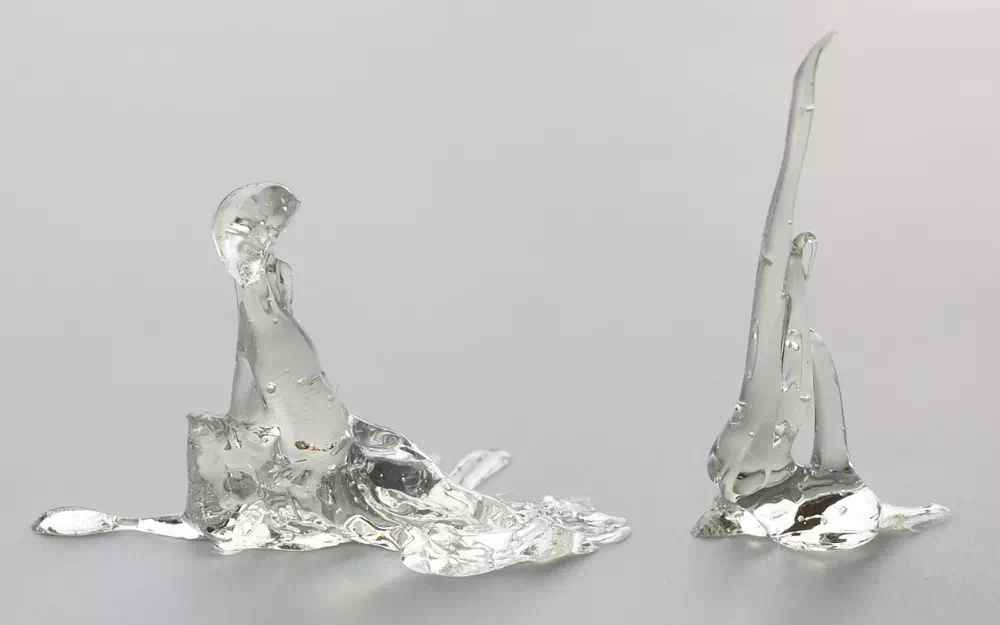 2 – Tutoriel perle imitation murano en résine UV DIP
Cette résine est idéale pour créer des perles rondes, avec à l'intérieur, une impression 3D (de fleur ou autre chose).
Il suffit, dans un premier temps, de tremper l'extrémité d'une pointe en métal dans la résine UV DIP puis de faire catalyser et de répéter cette opération jusqu'à obtenir une boule de 5mm.
2 – Imitation Murano bead tutorial in DIP UV resin 
This resin is ideal for creating round beads, with a 3D print (of a flower or something else) inside.
The first step is to dip the end of a metal tip into the UV DIP resin, then catalyse and repeat until you have a 5mm ball.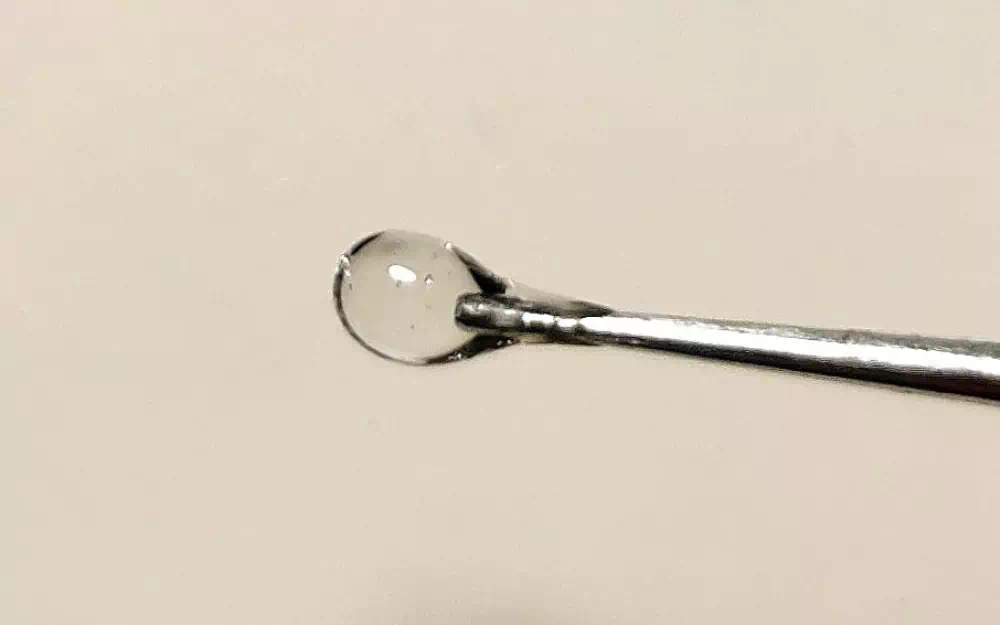 Pour réaliser le coeur, on trempe la boule obtenue, légèrement enduite de résine, dans des paillettes colorées.
To make the heart, the resulting ball, lightly coated with resin, is dipped in coloured glitter.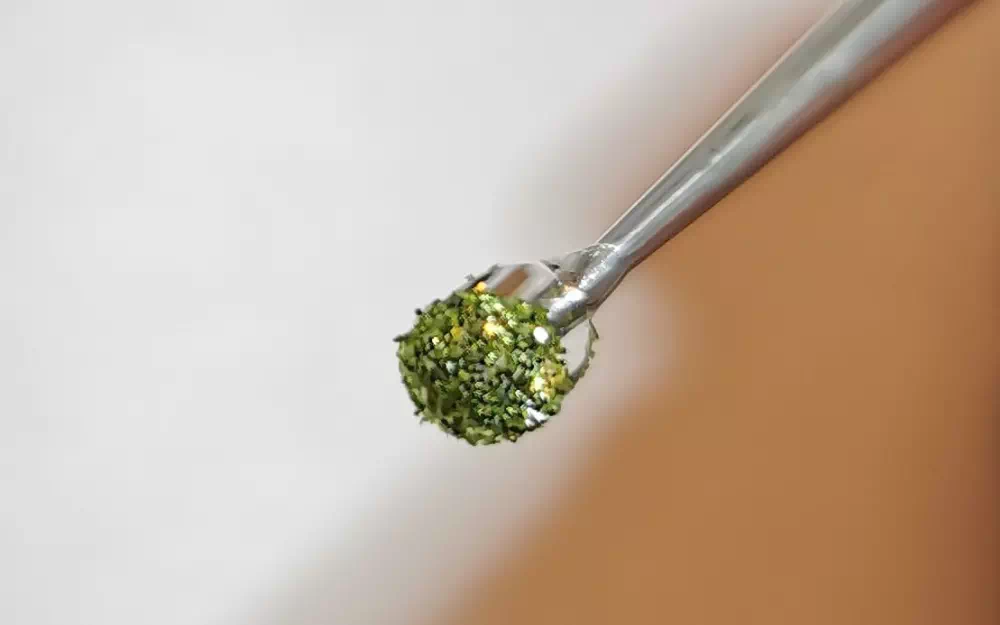 On fixe les paillettes avec un peu de résine déposée à part (afin de ne pas mettre de paillettes dans le pot) et on catalyse.
Glitters are fixed with a little resin put aside (so as not to put any glitters in the jar) and we catalyse.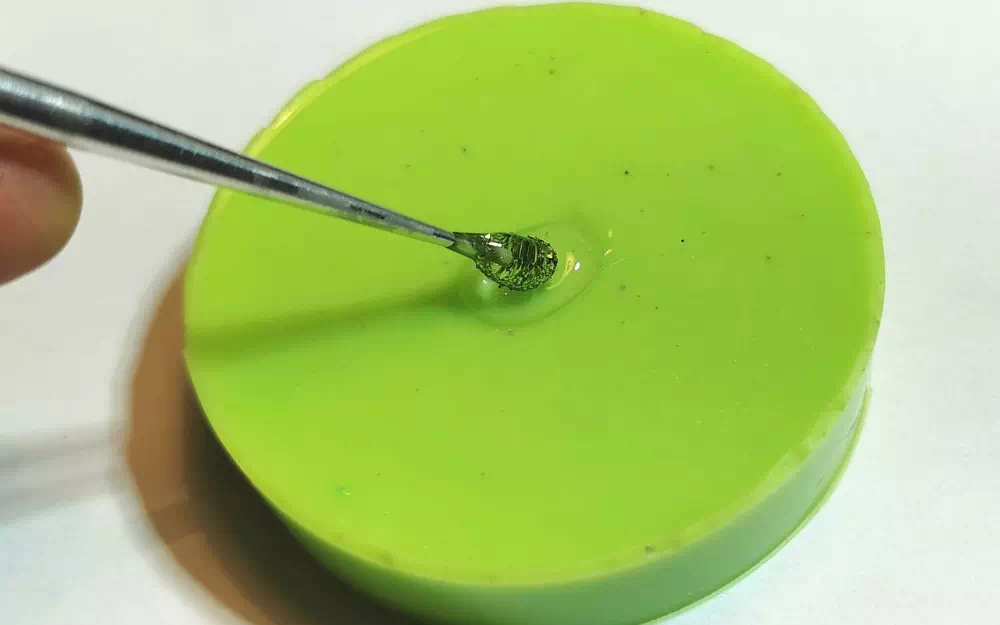 A présent on utilise de la résine colorée ou des feutres contenant de la peinture acrylique (un camaïeu de 3 à 4 couleurs).
Now we use coloured resin or acrylic paint pens (a shade of 3 to 4 colours).
On dessine les pétales en partant du pic en métal et en direction du pôle opposé de la perle. On s'arrête aux 3/4 de la perle.
The petals are drawn from the metal spike towards the opposite pole of the bead. We stop 3/4 of the way through the bead.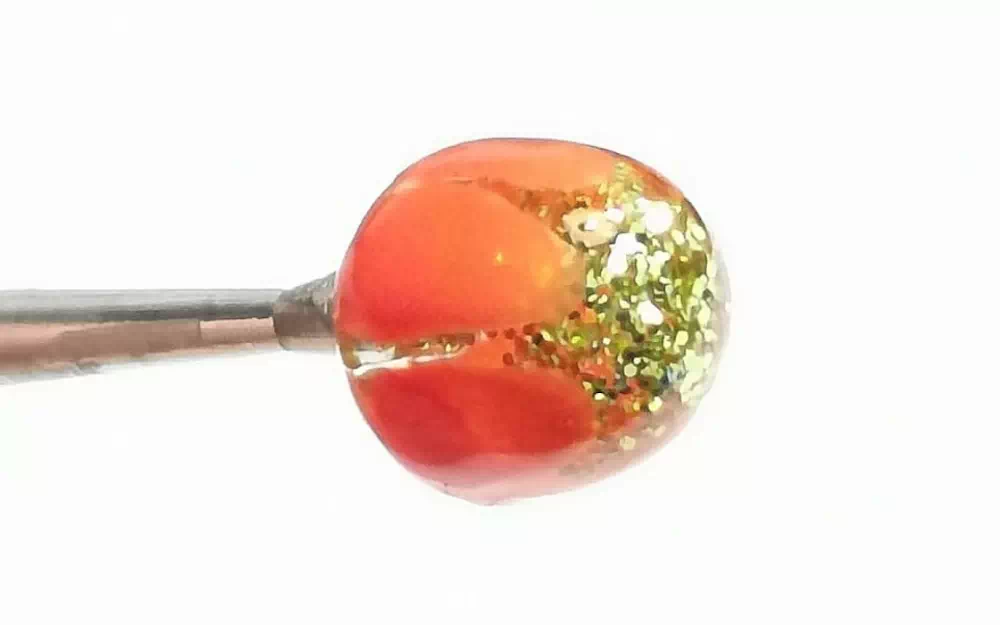 On laisse sécher l'acrylique (il est possible d'utiliser un sèche-cheveux si besoin) puis on replonge la perle dans la résine UV DIP. Cela va enrober généreusement celle-ci et donner une impression 3D au fur et à mesure des dessins de pétales et des couches successives de résine.
On réalise 2 couches de résine entre chaque couche de pétales. On commence par la couleur la plus foncée et on réduit la taille des pétales de la 2ème puis de la 3ème couche.
TA DAA !
The acrylic is left to dry (a hair dryer can be used if required), then the bead is dipped into the UV DIP resin. This will generously coat the bead and give a 3D impression as the petals are drawn and the successive layers of resin are applied.
Two layers of resin are applied between each layer of petals. Start with the darkest colour and reduce the size of the petals in the 2nd and 3rd layers.
TA DAA!
Tutoriel loutre par Leslie J Blackford
Pour la journée mondiale de la loutre, Leslie J Blackford a eu la générosité de nous offrir un super tuto en vidéo pour réaliser une loutre trop mignonne !
Joyeuse journée mondiale de la loutre !
Otter tutorial by Leslie J Blackford
For World Otter Day, Leslie J Blackford was generous enough to offer us a great video tutorial to make a cute otter!
Happy World Otter Day!
Tutoriel sapin de noël déjanté par Sylvie Peraud
Pour les fêtes de fin d'année, notre Sylvie Peraud nationale a eu la générosité de nous offrir un super tuto en vidéo pour réaliser un super sapin de noël !
Joyeuses fêtes à tous !
Crazy Christmas Tree tutorial by Sylvie Peraud
For the festive season, Sylvie Peraud, a well-known and talented French polymer artist, was generous enough to offer us a great video tutorial to make a great Christmas tree!
This tutorial is only in French but the gestures show very well how to make this tute.
Merry Christmas to all!